Skiing trip to North Korea
Riders.dk X Above Borders
16. - 25. February - 14.995 DKK
At Above Borders we always thrive to discover new, unique and different experiences. Experiences that generates memories for life, pushing boundaries and expand our horizon. Most often it becomes easier to create unique experiences when multiple passionated units collaborate. Therefore, we have initiated a collaboration with Riders.dk and Blacksnow. In collaboration with them will we for the first time the history of Above Borders offer a skiing trip to North Korea
You will not only get the chance to ski in of the world's most isolated countries you will also be thoroughly guided by educated ski guides from Riders.dk Besides, you will get to experience one of the most infamous borders in the world at the DMZ. You will have the opportunity of experiencing the North Korean culture at close range, speaking to locals and get unique insights into a country that only the fewest of people have experienced. This group tour will without any doubts be a one of a kind skiing trip.
Become some of the first people to ski in North Korea alongside Riders.dk & Above Borders.
Discover one of the most isolated countries of the world

Danish travel leader & Local guides

Two trained ski guides from Riders.dk
A skiing trip like no other.
Program for our skiing trip to North Korea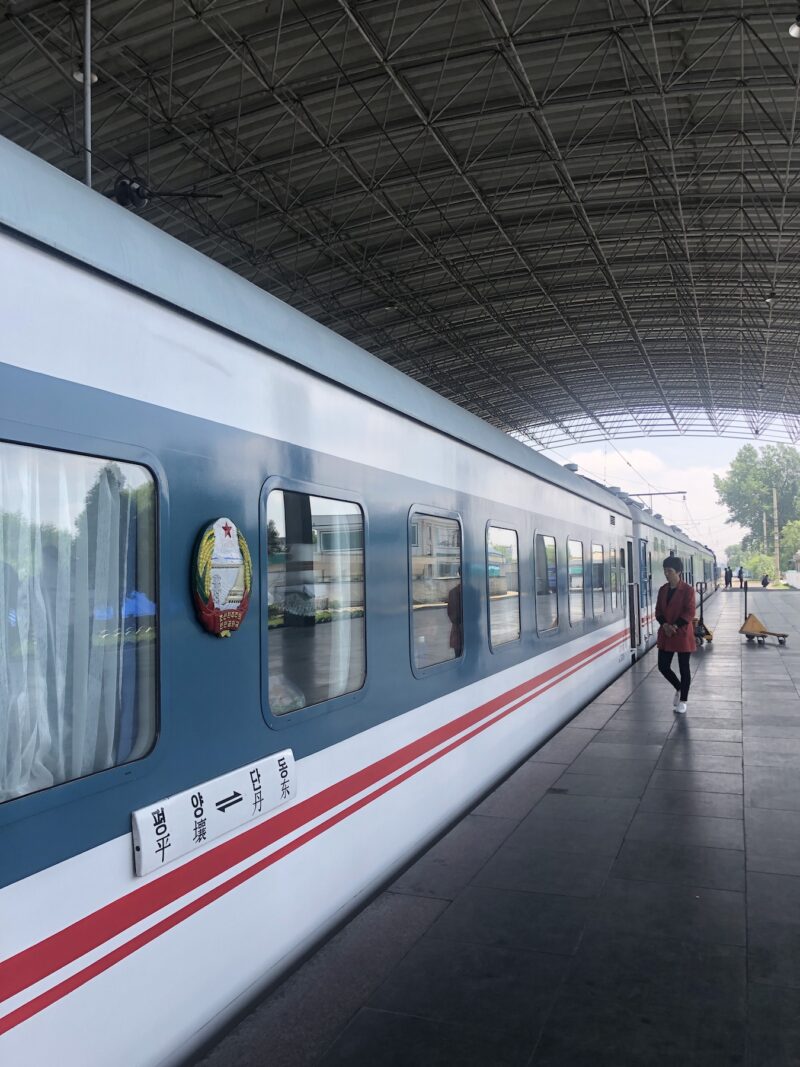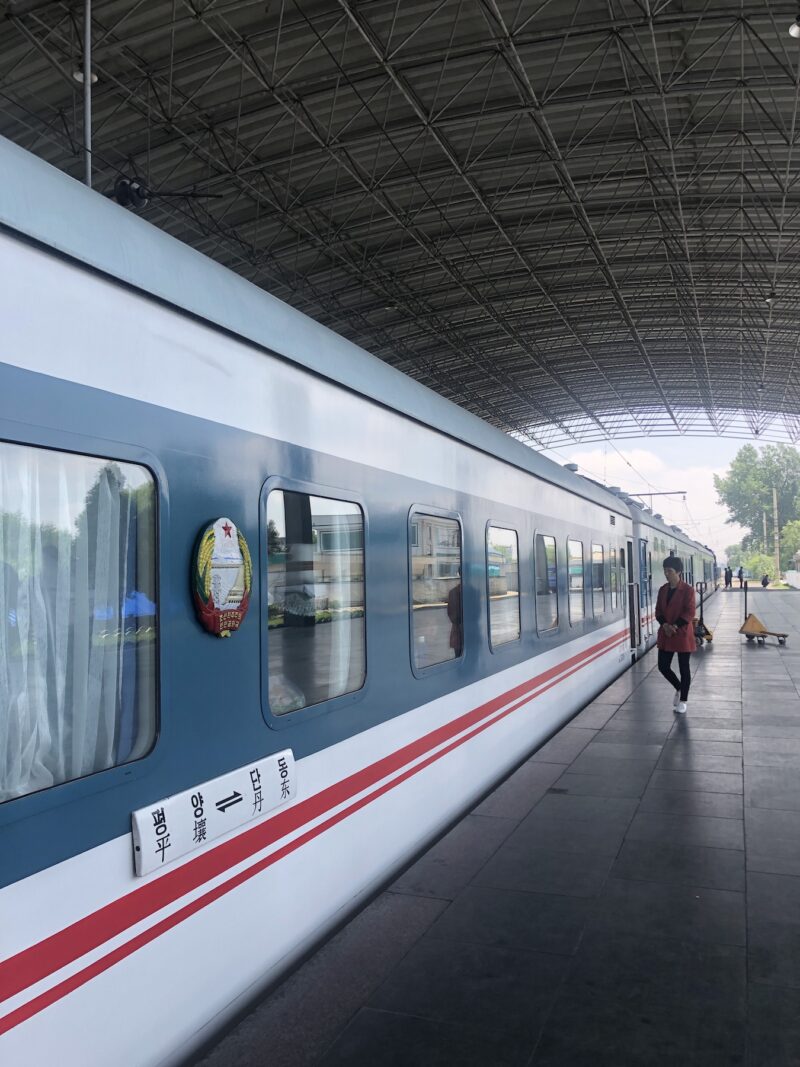 We will meet at the Hilton Garden Inn in Dandong, China. After check-in, there will dinner on the program. which is one of the only places in the world where North Koreans work outside of the country.
During the dinner, the travel leader will share his experiences in order to give you the best possible start to your journey.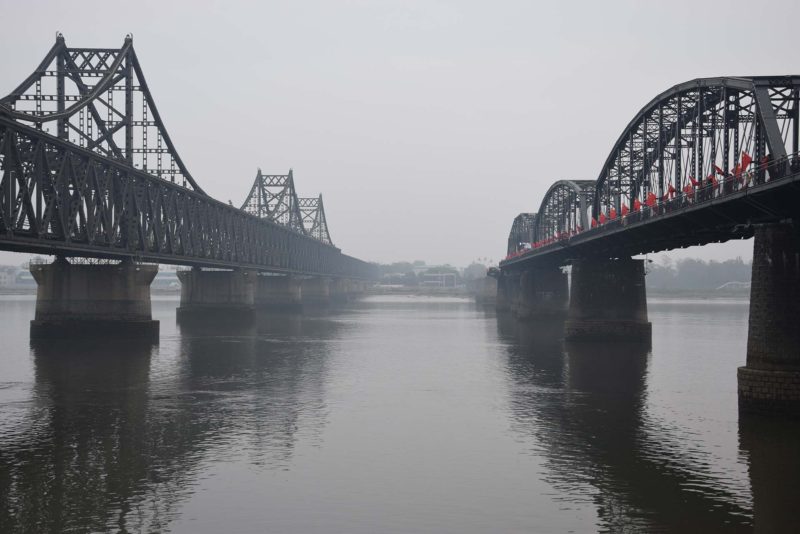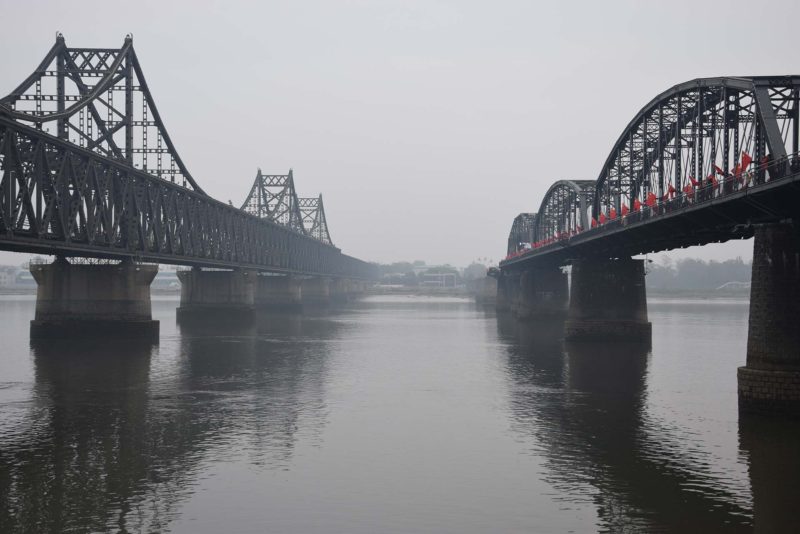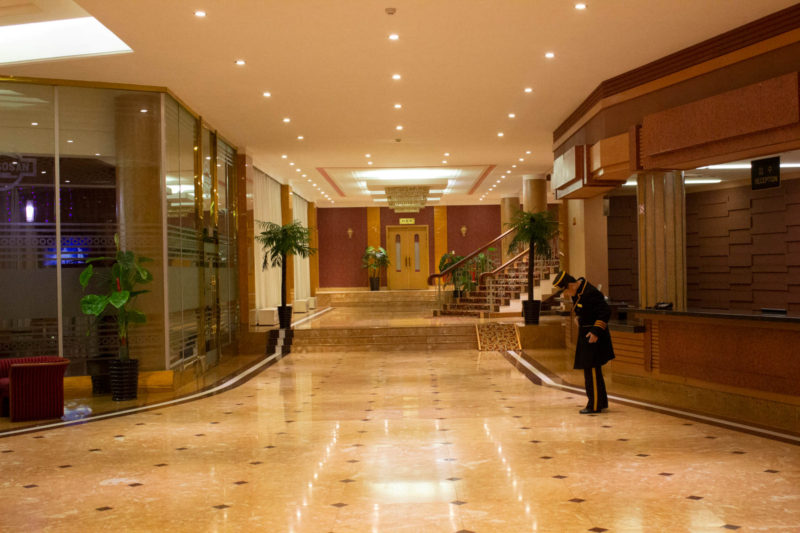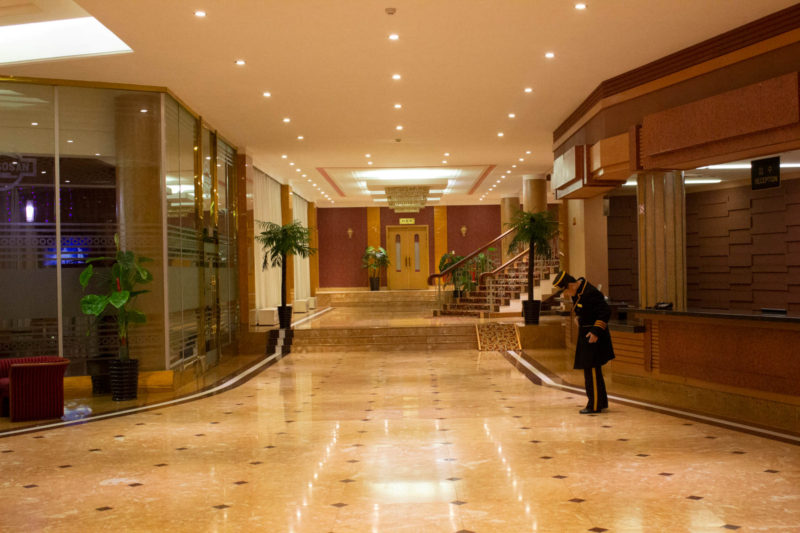 The day where we will cross the Border of North Korea. We go together from the hotel to the train station. We have to leave quite early to be certain that we all get through security before departure. The travel leader will give you your North Korean visa and explain all the details and procedures regarding border control.
After we have crossed the border we will go by train through the North Korean landscape. This train ride is a unique possibility to discover other parts of North Korea than just the major cities and a great opportunity to talk to local North Koreans.
In the evening we arrive at the Capital Pyongyang. Our North Korean guides will welcome us at the train station. We will then go to Kim Il Sung Square for en evening walk before having dinner. After dinner, we check into the Sosan Hotel.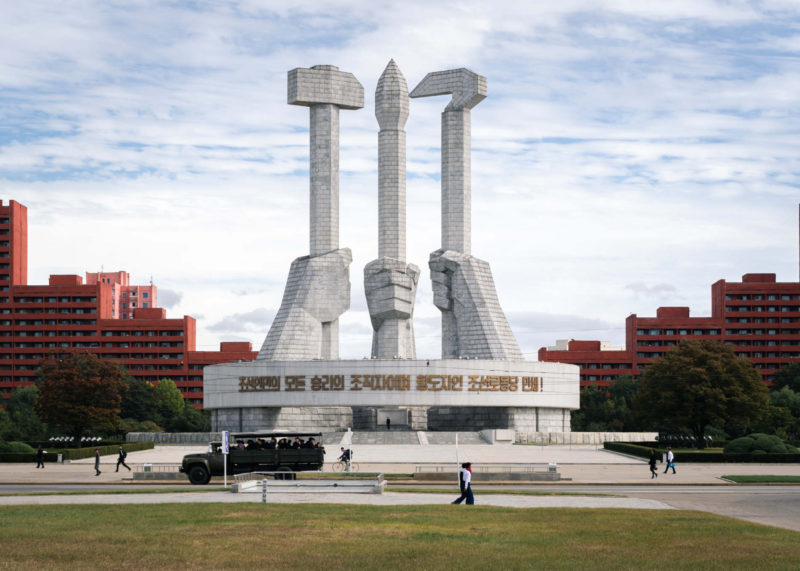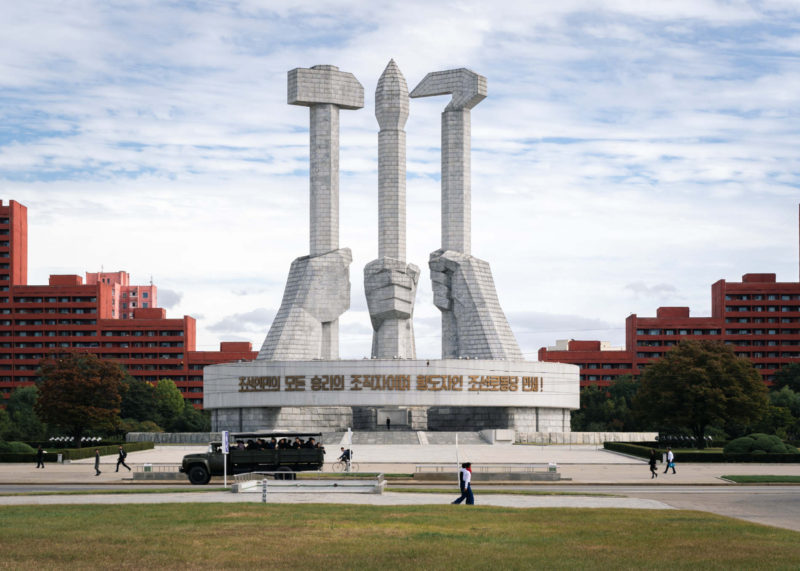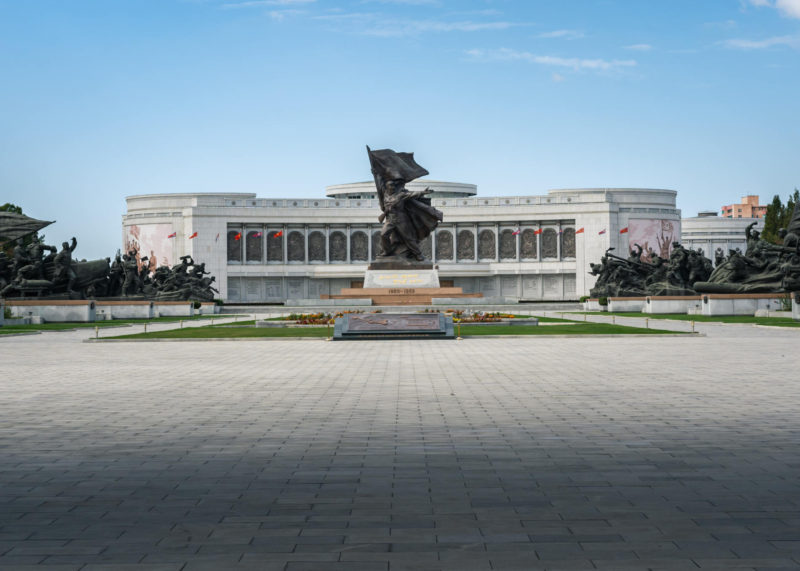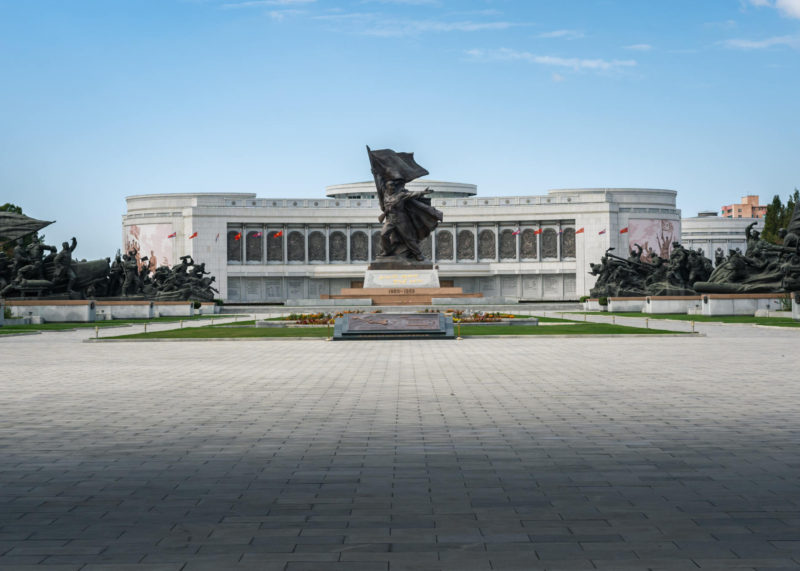 This is the first full day in North Korea and we have packed program in the capital ahead of us in order to discover as much as possible.
Up first is the Pyongyang Metro. It is one of the world's deepest metros. It is built that way so it can also function as a bunker. After a metro ride, we will go by North Koreas Arch of Triumph. Despite the similarities with the Arch de Triumph in Paris, the North Koreans insist it is different because it is 10 meters taller.
Last stop before lunch is at theWorkers Party Monument.
After lunch, we will go to the Fatherland Liberation War Museum. This impressive war museum will deliver insights on the Korean War from a North Korean perspective. A vastly different interpretation than what we are commonly used to. Then we will go to a primary school where we will be able to communicate with local North Korean students and even participate in their English class.
After dinner, we will go to the skiing area Masikryong where we will stay a couple of days.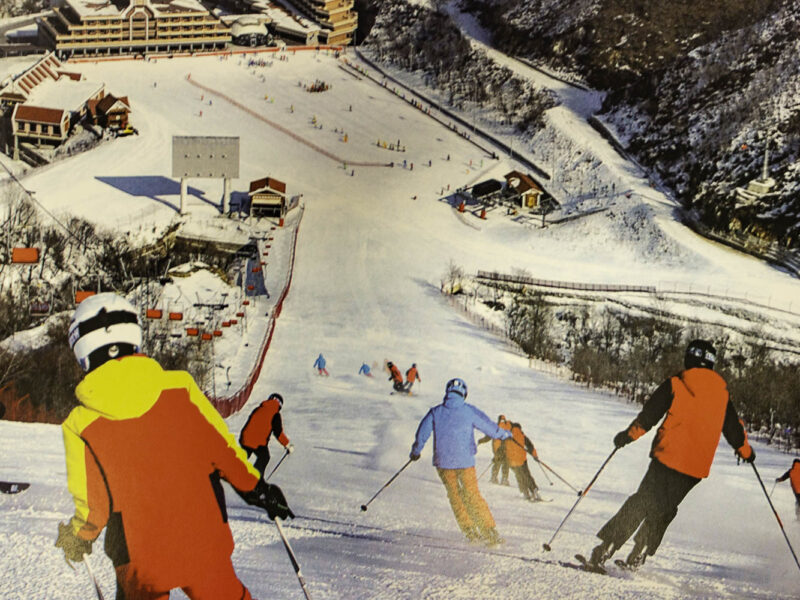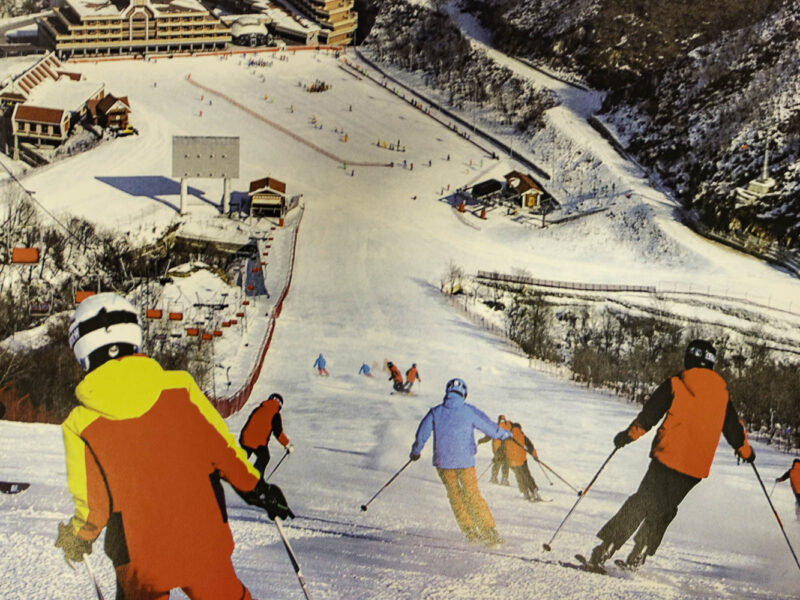 This morning we will get up to the views snow-covered mountains in the sunlight. It will also be the first full day skiing.
In collaboration with Riders.dk we have arranged you can get ski practice during the skiing trip. This is to ensure you are completely ready before approaching your first solo tour down the slopes. When you are done skiing you can enjoy many of the good facilities inside the hotel. Including spa, pool and way more.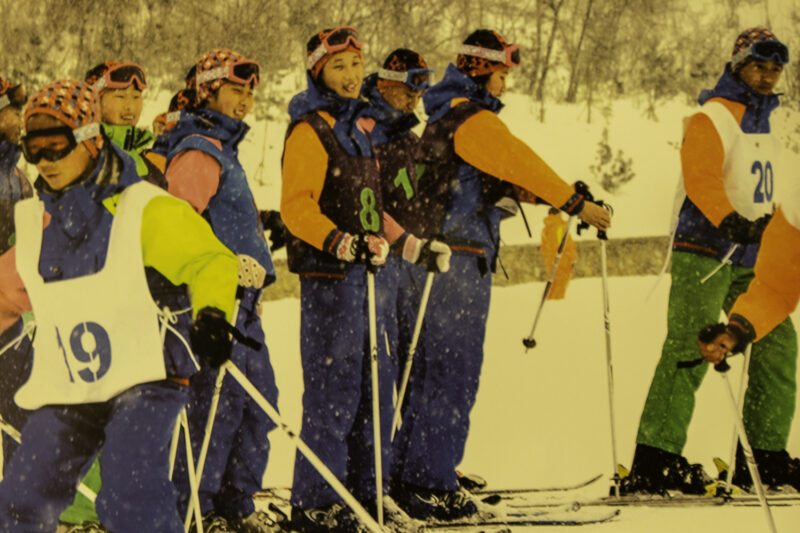 Second-day skiing and today you are very able to unfold your talents.
Who knows, you might even get to ski alongside some North Koreans who you can learn a couple of tricks (Or the might teach you something).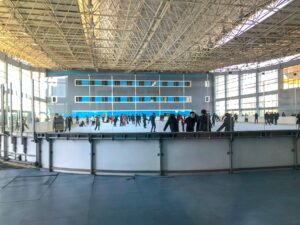 Third and last day skiing on this skiing trip. Make sure to get the last pictures of you skiing in North Korea and enjoy the beautiful surroundings. Because when the day is over we will return to Pyongyang.
We will stay at the Yanggakdo Hotel.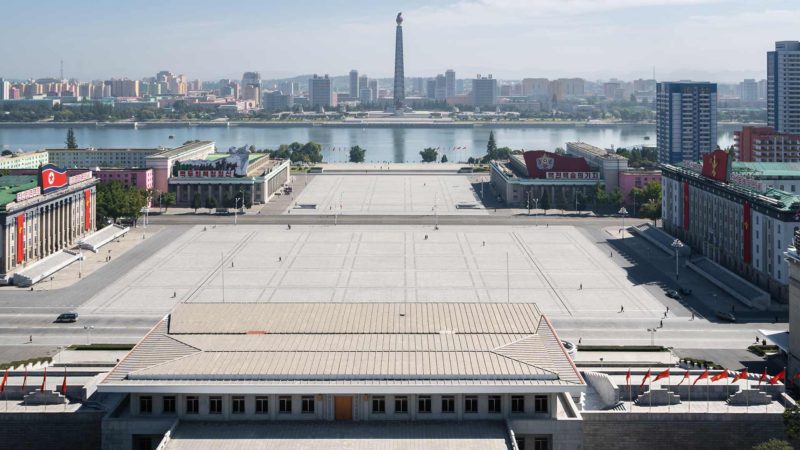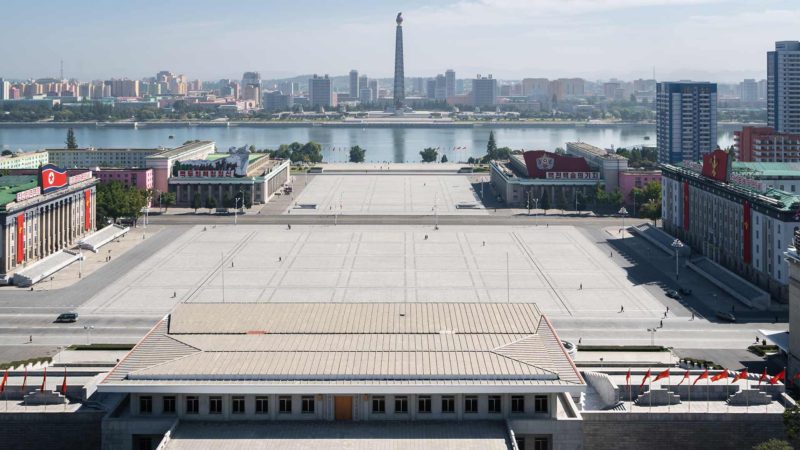 Another day in the infamous capital awaits. This will be our last day in the capital, so we have to all the things we did not get to see before we went skiing.
The program takes us by Grand Peoples Central Study House. It is a library and a place for adults to take classes in the evening. They can take many different classes. Amongst them is English. We will have a session with North Koreans and you will have the opportunity to ask them about their lives, and they will be able to ask you about yours.
After lunch, we will go Mansudae Fountain park and visit the holy Mansudae Monuments Today we will also go to the worlds highest brick wall tower Juche Tower.
We will once again stay at Yanggakdo Hotel.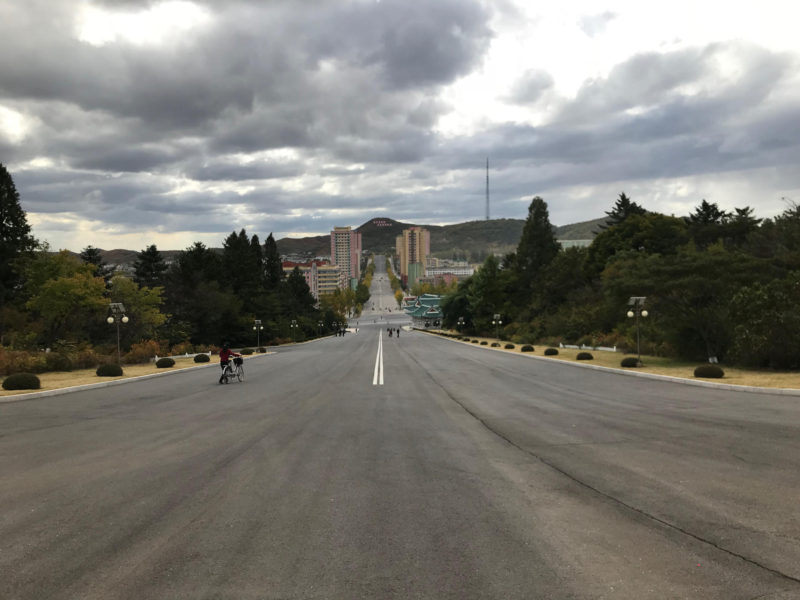 The day starts early. We have to go to the city by the border. Kaesong.
Kaesong used to be the capital in United Korea and this is the closest city to the border between north and south. It is thereby, the closest city in the world to the very intense military area, DMZ. A place that we have to visit
After visiting the border we go back to Kaesong. We will take a walk on Janam Hill, before we go to Koryo Museuem.
At Koryo Museum you will hear stories about Korea before the war. It is a tale of how North- and South Korea have common customs, traditions, language and many other similarities.
The lunch today will be Kings Meal which is a very famous North Korean meal.
After lunch we will go back to Pyongyang. On the way back we will make a stop at the Reunification Monument. One of the many symbols of reunification that the North Koreans desire to happen. At the monument, the guides will explain their version of why it has not happened yet.
Back in Pyongyang and the last evening on our journey in North Korea. We will have a goodbye dinner with our guides and then we will go to a local beer bar. This will be the last opportunity to ask the guides that you have spent so much time with the last week whatever you like. Also be the possibility to make a proper goodbye.
Back at the hotel you can go to bowling alley, write a post card or just relax after a long day.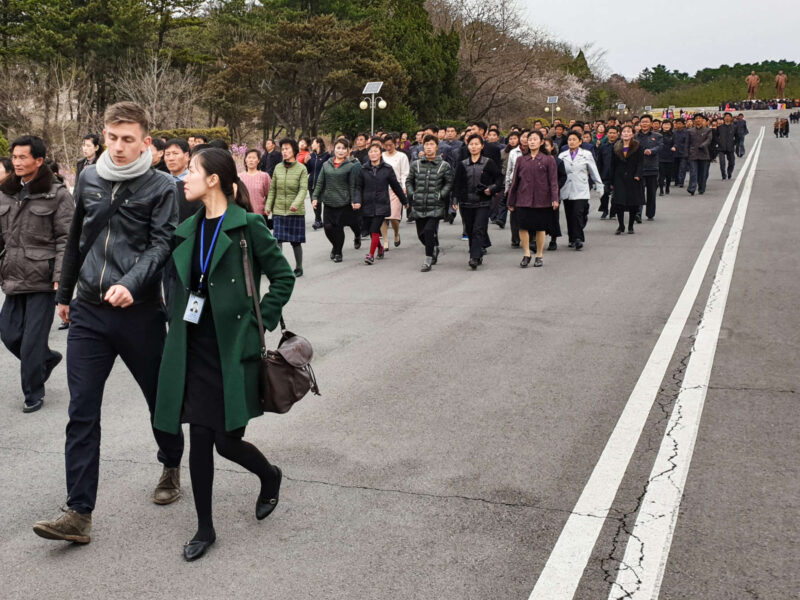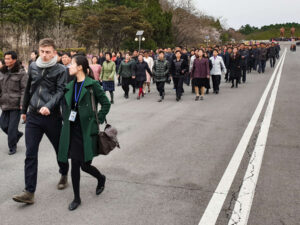 Last day in North Korea. After breakfast we have arranged a walk down Future Scientist Street. The last opportunity to stretch your legs before we will depart for Dandong, China.
After crossing the border we check in at Hilton Garden Inn, in Dandong. We will be able yo relax there before our last official meal together.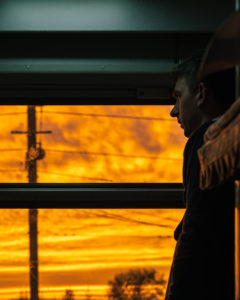 The last day and nothing planned. Here you can say goodbye to the group if you have not done it already. We recommend you travel around China while you are here, but you can also go home. No matter your plans, we will gladly assist with the planning.
Thank you for a (hopefully) great trip full of experiences.
Due to the general tourism in North Korea, the program can be subject to change. That also concerns this skiing trip. Prior and during the trip there will be minor adjustments, but we will do everything we can to keep you updated. In case something is canceled, we will find an alternative activity.
Masikryong skiing resort
The resort is the first of its kind in North Korea and is located 200 km north of the capital Pyongyang. It was build in just 10 months and was ready back in 2014. The resort was one of many initiatives by Kim Jong Un to increase tourism and also with the hope of co-arranging The Winter Olympics in 2018.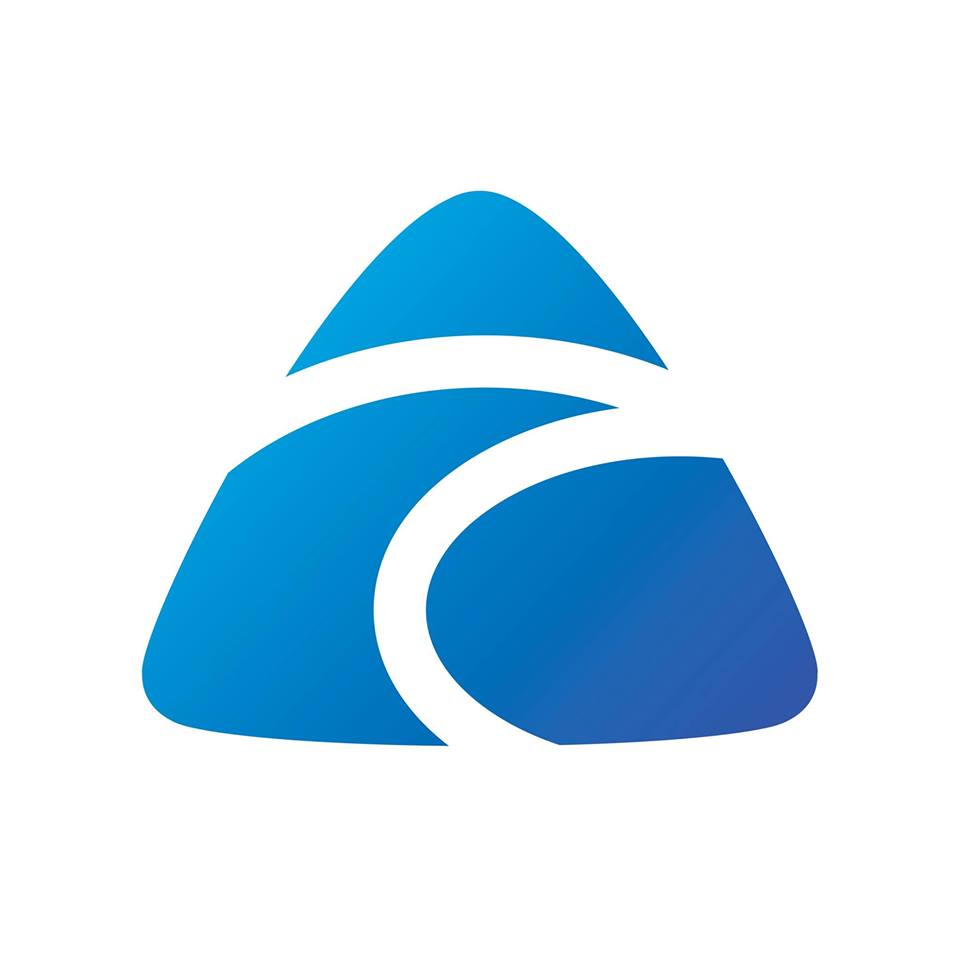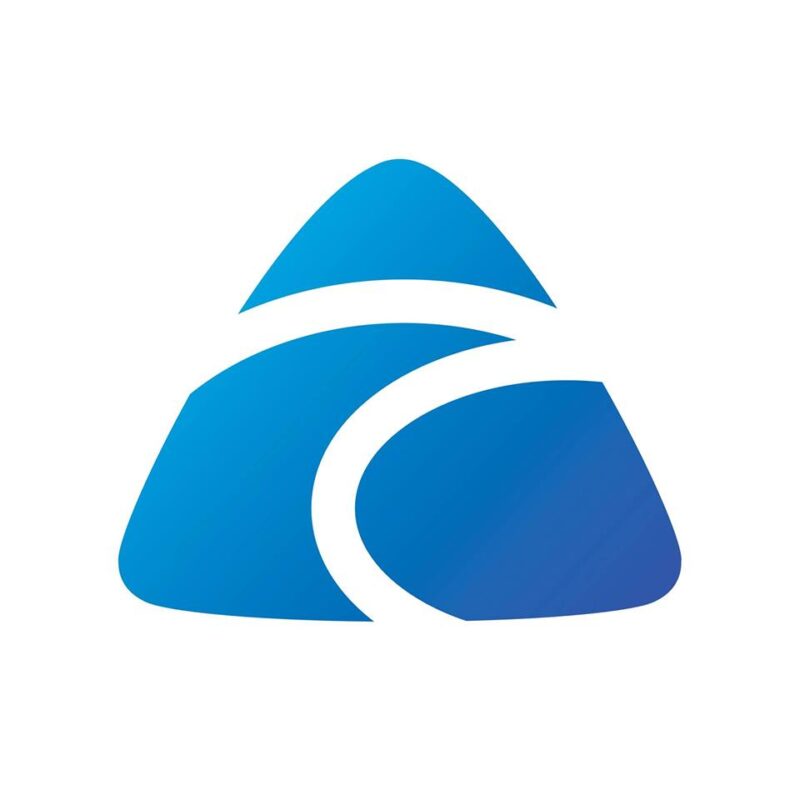 Riders.dk is Denmark's biggest online portal for surf- and freestyle culture. They are a non-profit organisation with a lot of passionated skiers, snowboarders and other genres of action sports. Riders.dk have been dominating amongst the danish skiing scene since 1999. Therefore, they have a lot of experience in arranging events, trips, etc. in relation to skiing. Riders.dk desire to push the boundaries and spread their message within their field just as we do. Therefore, it seemed very obvious to us to start a collaboration with Riders.dk and we are really looking forward to departure.

Blacksnow is one of the biggest online shops within ski, snowboard, and surfing in the Nordics. It is only passionated people within the field of action sports who run the shop. Blacksnow are just like us very focussed on the quality of their products and they will not sell products that they cannot vouch for with 100%. Considering action sports most commonly are performed in nature, Blacksnow want to protect it, just as we do. Therefore, do Blacksnow support the climate through donations and with their selection of products. As a traveler on this trip, you have the possibility of gaining a very profitable deal. Blacksnow will provide a -12% discount on products from their webshop to all travelers on this specific skiing trip.
Travel leader and ski instructors
When you travel with Above Borders we will always send a tour leader to join the group tour. This is our guarantee to ensure:
Unique knowledge of the destination
On this tour, your tour leader is Jonas Bang Andersen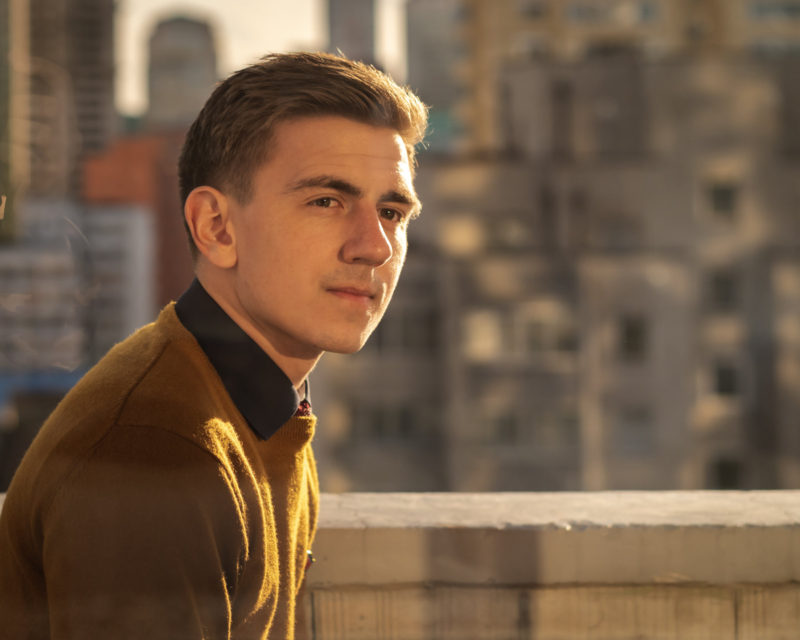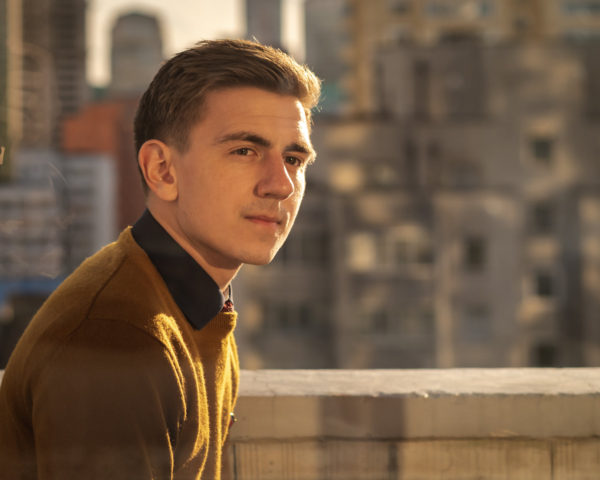 Jonas has in a age of 26 years, lived in 3 different countries, visited 15 countries split in 3 different continents and acted as a tour leader since 2015. When Jonas travel, he believed the best way to real understand and learn about another countries culture is to talk and interact with the local people. Only in this way, we can ensure that you will get close to, and thereby learn and understand, the destination. Therefore he always tries to meet and talk with as many locals he can, when he goes traveling.
When Jonas is your leader leader, you are guaranteed unique local knowledge, a lot of personal anecdotes and a entertaining tour.
Skiing instructor Sofie Kyed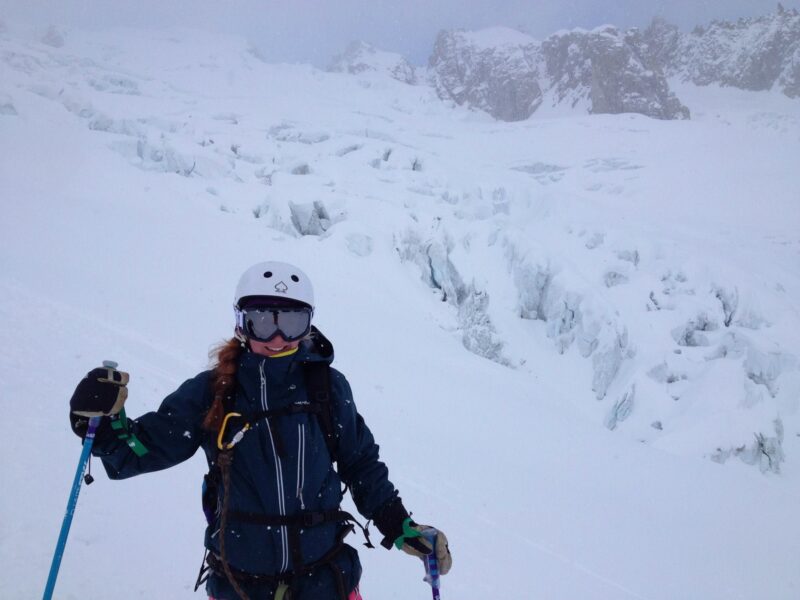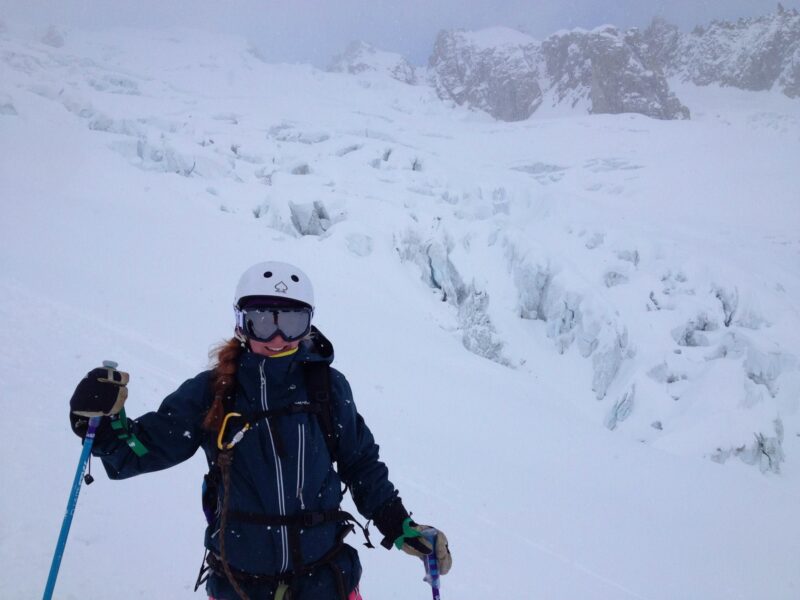 As a Klitmøller resident, Sofie Kyed is a big fan of adventure. Both the small adventures in everyday life at the Western Sea of Denmark but also the huge adventures in exotic or remote societies. Preferably with either a surfboard or a pair of skis as baggage.
From a very young age skiing has been a regular part of the annual adventures and she has spent several winters in the mountains. Especially skiing off-pist is something that has a huge pull factor for Sofie, however, the last couple of years she has found her way back to the slopes where she has been teaching.
For Sofie, a skiing trip to North Korea is the perfect combination of adventure and action.
Skiing Instructor Marie Tvarnø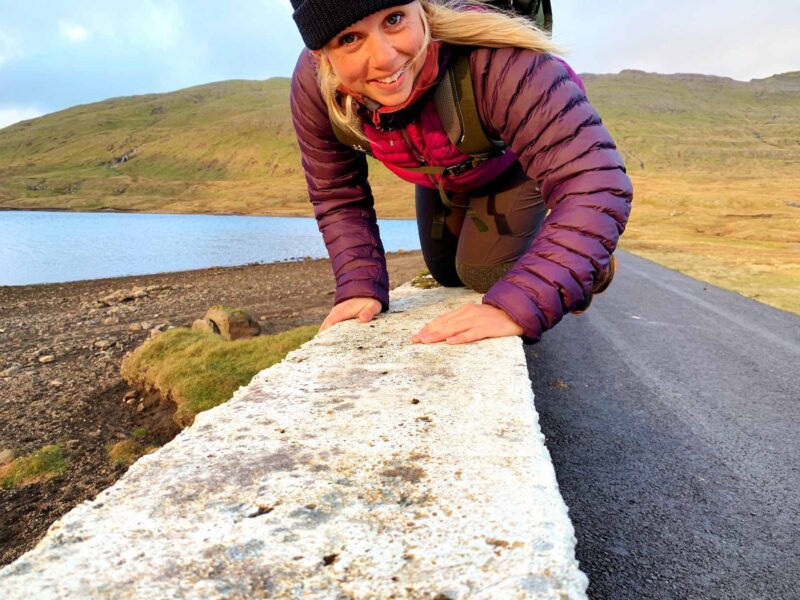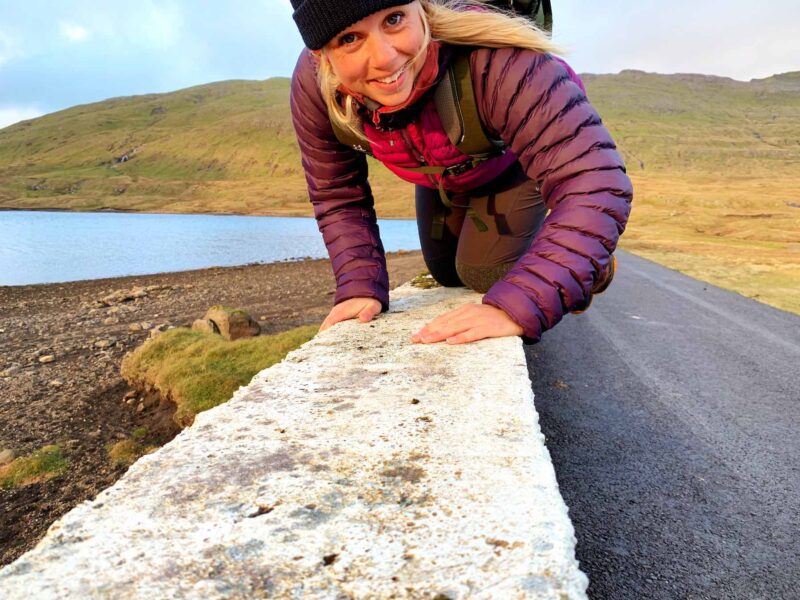 Marie is Copenhagen raised but she has always been very adventurous. She has been driving a dog sleigh across the poles, powering down the slopes of the North and the Alps and hiking the hills of the North. She always brings her running shoes for any vacation to be able to experience as much as possible. Throughout her 29 years of living, she has managed to become a skiing instructor, running coach, personal coach and she also achieved a bachelor's degree in nutrition and health.
She approaches her life with the mindset of Pippi Longstocking and lives by the motto: Oh I have not tried that before, so I should be able to do it. Additionally, she is quite the singer and her repertoire of songs is similar to a jukebox. She is definitely not shy about throwing down a song or two while taking the lift. It might not always sound too good but the happiness that the singing brings is unquestionable when you see the smile appearing! It is definitely something the North Koreans will appreciate!
The price of the skiing trip.
The price of our skiing trip is 14.995 DKK. . Below you can see what is included in the price and what is not.
Included
Transport from China to North Korea and back

Al accommodation in China (2 nights) and in North Korea (5 nights)

All meals in China and North Korea

Two North Korean guides and one North Korean driver

Danish, English and German speaking tour leader - Jonas

Al entrance to museums etc.

Rental of gear (Skis, boots, helmet)
Not included:
Transport from Denmark (or anywhere else) to China

Extra meals, snacks and souvenirs

Extra activities, e.g. going to the top of Juche Tower

Double Entry Visa to China
Important information
Above Borders is a member of the danish travel gurantee fond (Memebershipnummer: 2943) which is your gureantee that we follow danish legislation for group traveling. We will always be available in case you have any questions and ensure you will be send material which will prepare you for our tour so that you can benefit most possible from every moment.
Ofte stillede spørgsmål
What do previous participants say?
Jonas Bang Andersen
2018-08-30T13:54:55+02:00
For os betyder det meget, at alle medrejsende får en fantastisk oplevelse – derfor lader vi dem også tale for sig selv, når nogen spørger, hvad de synes om vores rejser. Du kan læse, hvad de synes her: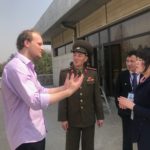 "Above Borders has really arranged a brilliant tour. Everything was carefully planned and the timeline was held - there was even added extra experiences at the itinerary during the days we where there. It was really cool experiencing a country which is that closed to the outside world and you really gets to create your own opinion to all the stories you hear about the country. It was in any case an real eye opener for me. A tour to North Korea can in any case be recommend!"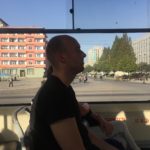 "Incredible amazing experience which showed North Korea from a whole new angle which at the same time starts makes your mind wonder about a world far away from my own life in Denmark. The tour was really well planned with a lot of exciting experiences, good food and interaction with the local north koreans. An experience for life!"
"An amazing tour I would gladly recommend! The tour was really well organized and every detail was carefully planned, so that the particpants could enjoy the itinerary to the fullest. It was an experience for life and I hope I can revisit the country another time."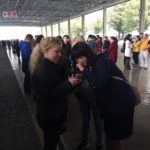 "Amazing tour, and I would love to go again. Great hotel with everything the heart desires, great food, a lot of new amazing experiences and new acquaintances. We had the sweetest guides which made sure that nothing missed and made sure we were in good and safe hands!"
"The platinum-star has been secured through a five star review. A very beautiful tour, with extra ordinary experiences and a very humorous and engaged tour leader Jonas. I would fore sure recommend a tour - if you plan to stay more days in China than planned, the skip Dandong and settle with only the one day/night in Dandong as the itinerary suggests."